Share feedback
Thanks for sharing your feedback!
Overview
Automatic Data Synchronization
This connector gives you the ability to sync your data automatically in hourly, daily, or total granularity.
Available Metrics and Dimensions
The Dataddo Snapchat connector supports many of the fields available in the official Measurement API. The full list of metrics is available here.
Multi-account Extraction
The Dataddo Snapchat connector supports automatic extraction from all the available Snapchat accounts. This feature is particularly useful when you have multiple accounts and need to automatically extract the same metrics and dimensions across them (e.g., online agencies).
Historical Data Load
Currently, it is possible to only access data 6 months into the past.
How to Create a Snapchat Data Source
Sign in to your Dataddo account and click on Sources at the top of the page.
s2. Click on Create Source in the top right corner.
3. From the list of sources, choose Snapchat. You can type the name of the connector into the search bar to find it faster.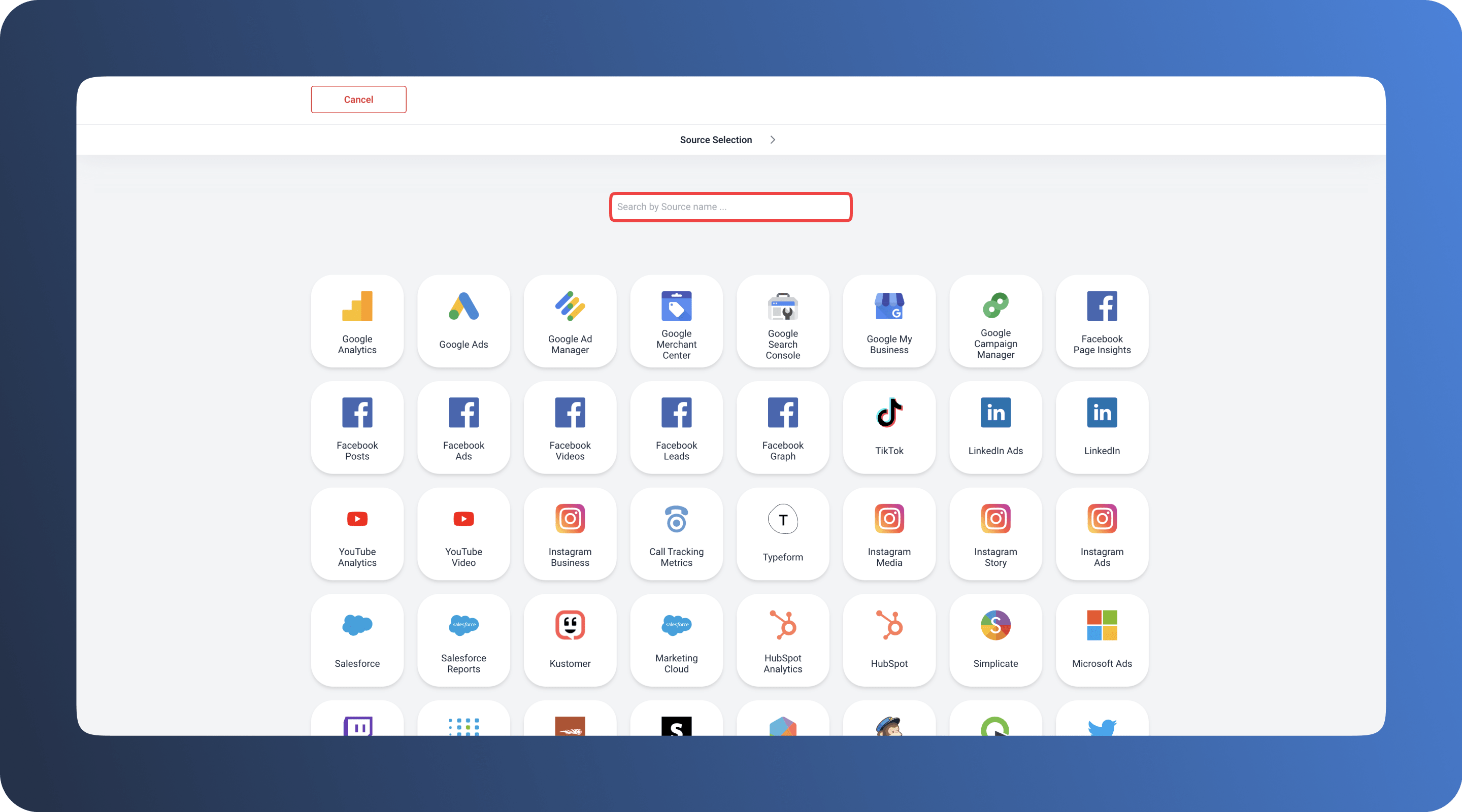 4. From the drop-down menu, choose your Snapchat Account connected to Dataddo, and then select Organization and Ad Account Account. Click on Next to continue with the setup.
1. Didn't find your account?
If you want to connect a new account that is not on the list, click on Add New Account at the bottom of the drop-down. You will be redirected to the authorization/sign-in page to confirm the right account. Once you confirm, you will be redirected back to the Dataddo app.
2. Authorize your account
If you have not authorized your Account with Dataddo, click on Add new Account and you will be redirected to the authorization/sign-in page.
3. After you log in and give Dataddo the necessary permissions to access your data, you will be redirected back to the connector.
5. Choose a Name for your Data Source, select the Stats Breakdown, Metrics and Labels. To continue to the next page, click Next.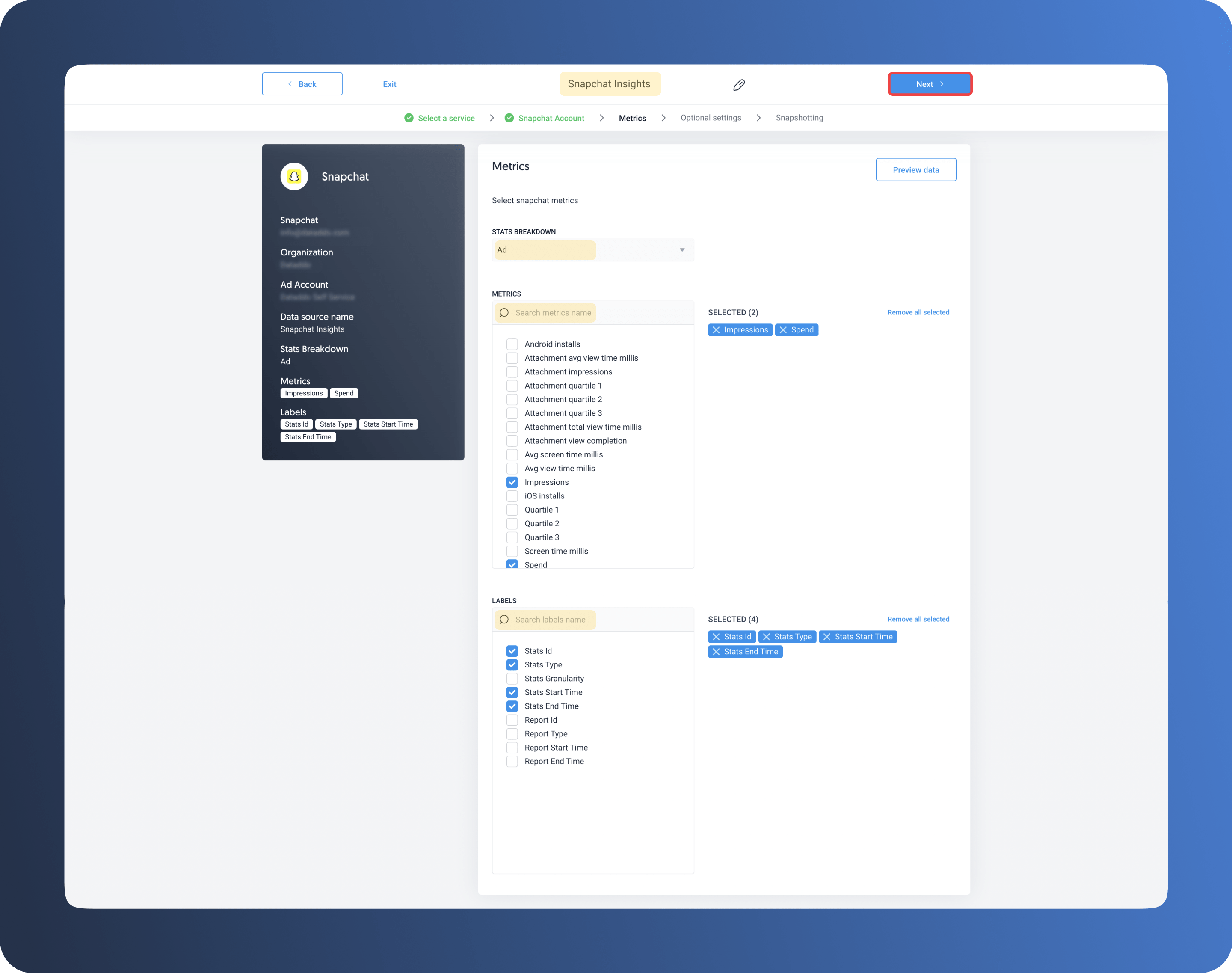 6. The next page is optional. You can choose Action report time, Swipe up attribution window and View attribution window. Click on Next to continue.
NOTE: Unless you already know what you are doing, we recommend skipping this step, keeping the preselected values.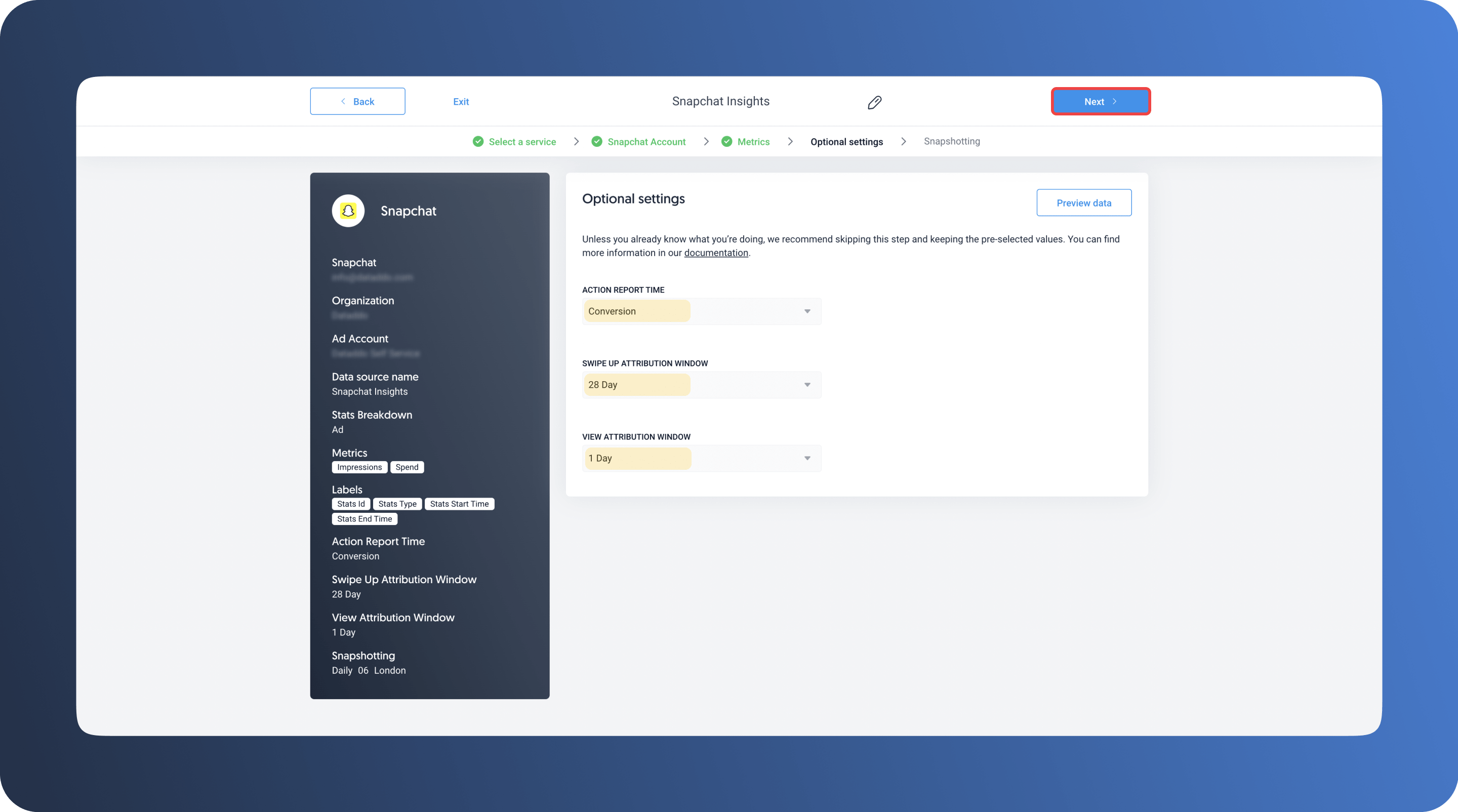 7. Configure your snapshotting preferences by choosing your Date range*, Sync type, Sync frequency, Time, and Timezone.
NOTE: *If the Data range is available to select, you can load historical data. Read more in our guide.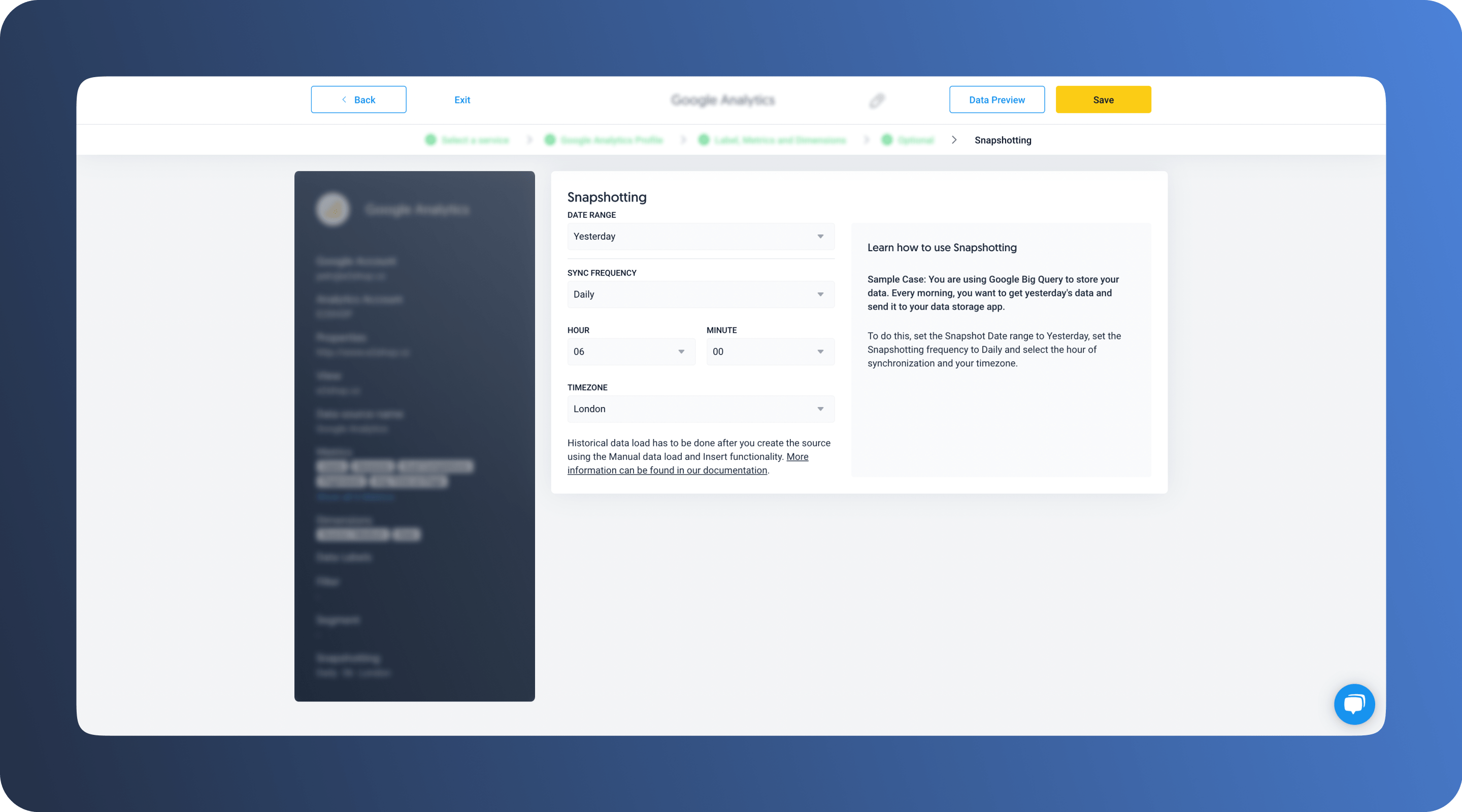 8. Before saving the source, you can see a preview of your data by clicking on the Preview button. You can adjust the date range to a more specific view.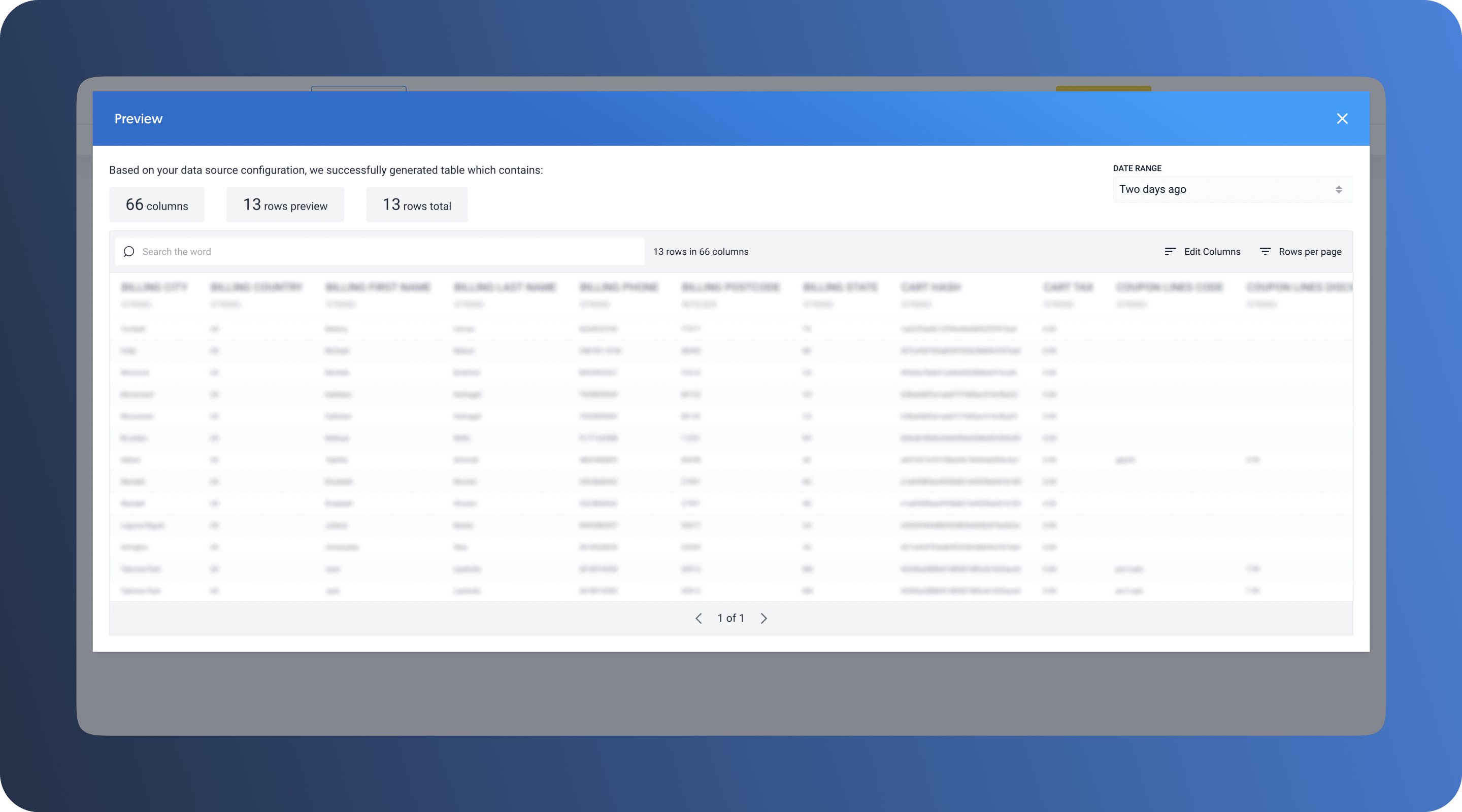 Also, you can see the full list of the metrics you selected by clicking on Show all Metrics and attributes, in the left navigation.
#### * Broken View / Error Message
If you cannot see a preview of your data, go back a few steps and check your setup. The most common causes are:
* Date range - we recommend a smaller date range. If you need to load historical data, check our guide.
* Invalid metrics, attributes or breakdowns, or their combination - you may not have any values for them.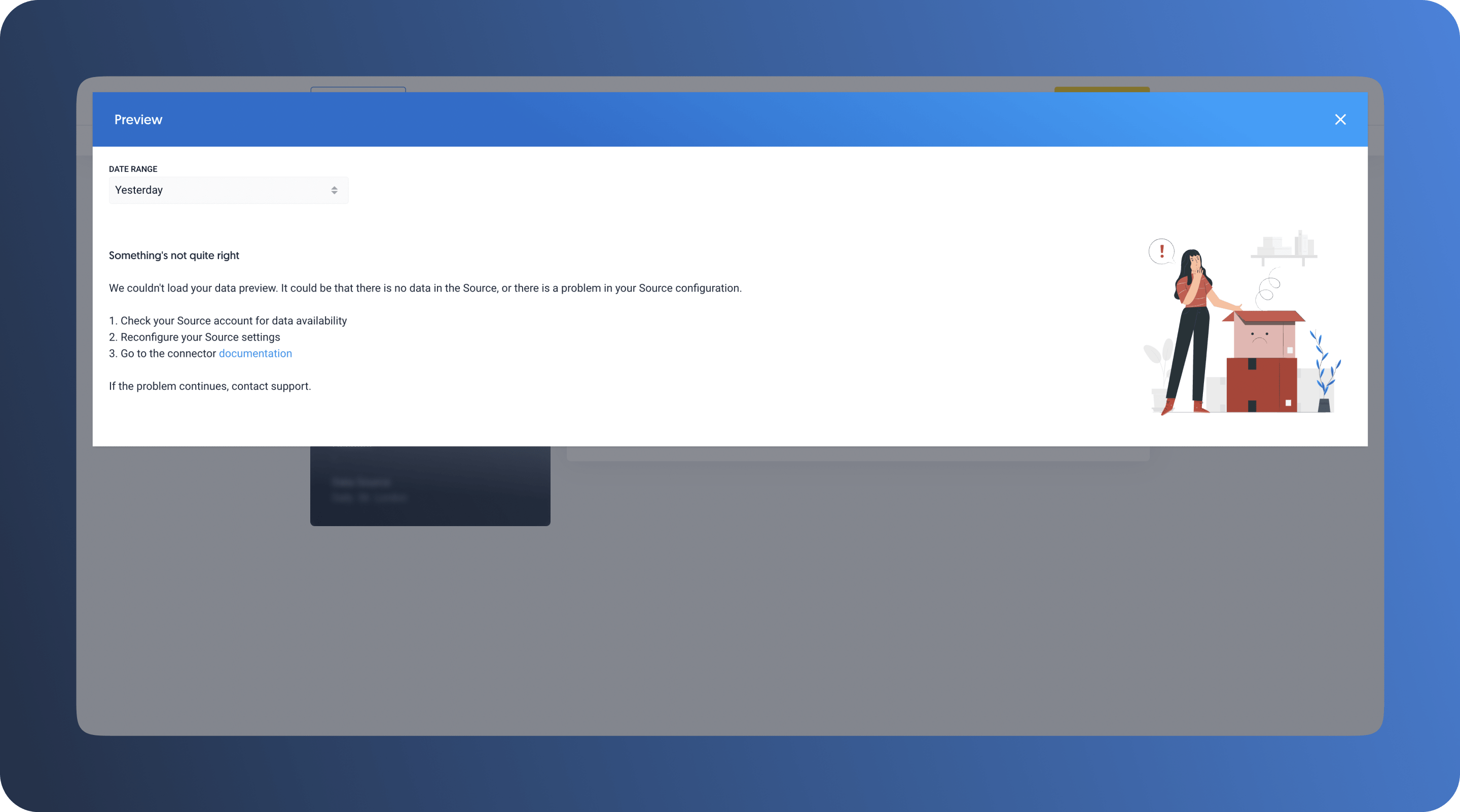 9. Click on Save and your new Data Source is ready.
Congratulations, your new Data Source is ready!
---
---
Was this article helpful?
---
What's Next