Share feedback
Thanks for sharing your feedback!
Available data
Dataddo YouTube Analytics connector can extract all the data available through the official API. You can find the full list of available data here.
How to create a YouTube Analytics Data Source
Sign in to your Dataddo account and click on Sources at the top of the page.

Click on Create Source in the top right corner.

From the list of sources, choose YouTube Analytics. You can type the name of the connector into the search bar to find it faster.


First, select the required Dataset and click on Next.
NOTE: If you are not sure which Dataset you need, but you know which Metrics and Attributes you are looking for, you can use the Search by Name or Attribute function or you can browse through all the possible Attributes and Metrics for each Dataset by clicking on the specific Dataset.


From the drop-down menu, choose your YouTube Account connected to Dataddo, and then select Channel ID. Click on Next to continue with the setup.
NOTE: Your channel ID is the identification number after ""channel/"" in your URL, for example, https://www.youtube.com/channel/UC_8GinFAuKrnbvnvxpk3YXW; or in the Advanced Settings.


Didn't find your account?
If you want to connect a new account that is not on the list, click on Add New Account at the bottom of the drop-down. You will be redirected to the authorization/sign-in page to confirm the right account. Once you confirm, you will be redirected back to the Dataddo app.

Authorize Your Account
If you have not authorized your Account with Dataddo, click on Add New Account and you will be redirected to the authorization/sign-in page.

After you log in and give Dataddo the necessary permissions to access your data, you will be redirected back to the connector.

Choose a Name for your Data Source, and select the Metrics and Attributes. To continue to the next page, click Next.
NOTE: The Metrics and Attributes depend on the Dataset you selected in the previous step. If you need different Metrics and Attributes, go back two steps and change the Dataset.


Configure your snapshotting preferences by choosing your Sync frequency. Under Advanced settings you can selec the exactTime, of synchronization. Confirm your setup by clicking on Next.
If the Data range is available to select, you can load historical data. Read more in our guide.

Before saving the source, you can see a preview of your data by clicking on the Preview button. you can adjust the date range to a more specific view.
Also, you can see the full list of the metrics you selected by clicking on Show all Metrics and attributes, in the left navigation.


Click on Save and your new Data Source is ready.
Congratulations, your new Data Source is ready!
---
Uninstalling the integration
To revoke Dataddo's access to your YouTube Account, you can go to the Google security settings page or the Authorizers tab in the Dataddo app and delete the YouTube authorizer.
Broken View / Error Message
If you cannot see a preview of your data, go back a few steps and check your setup. The most common causes are:
* Date range - we recommend a smaller date range. If you need to load historical data, check our guide.
* Invalid metrics, attributes or breakdowns, or their combination - you may not have any values for them.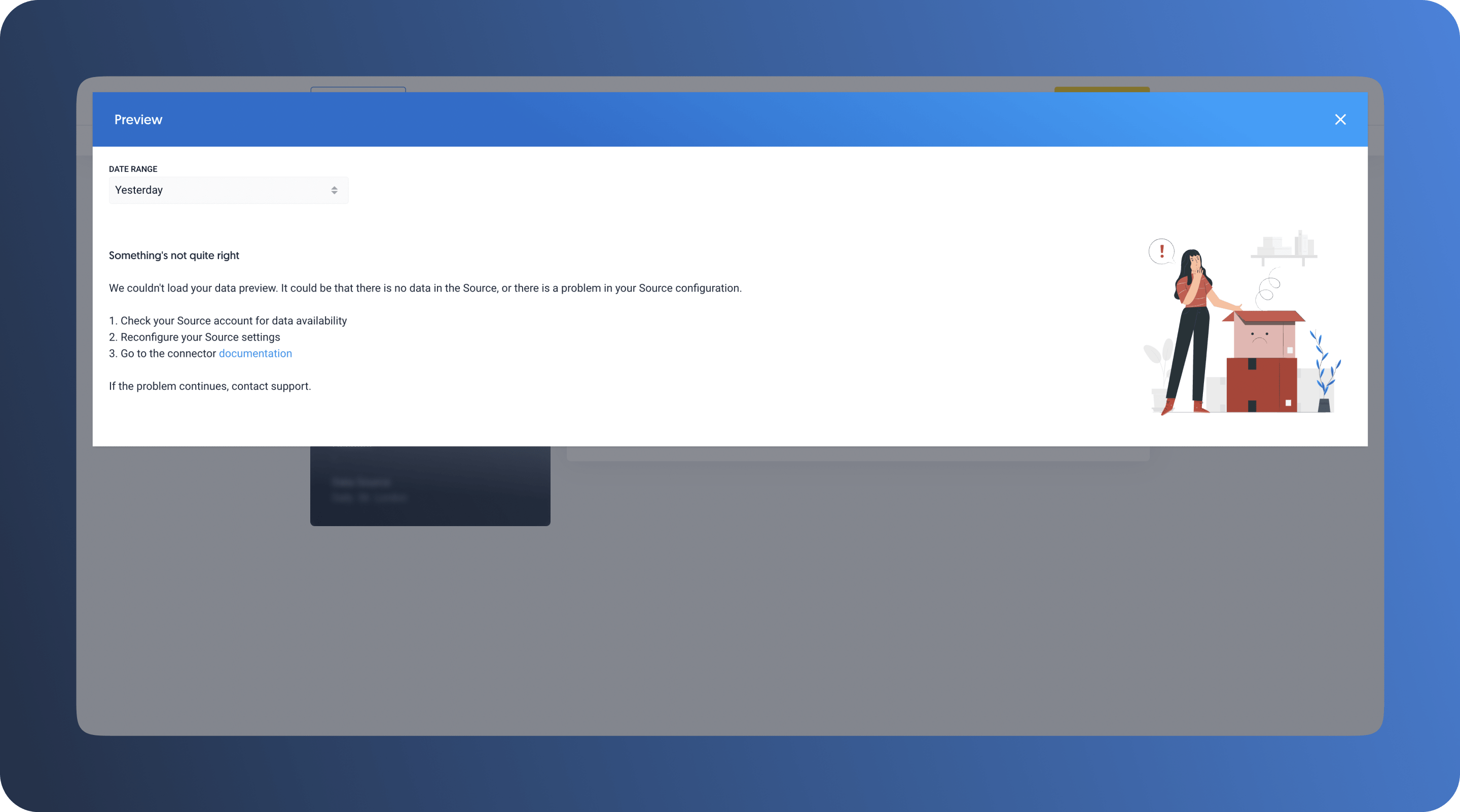 FAQ
1. Why can't I get data from 3 days ago and more recent?
Google takes between 24 – 72 hours to process data which is why it's possible to get data only from 3 days ago or older.
For Google Analytics, YouTube, or Google My Business, change your date range expression to 3d3 or older.
For Google Search Console, change your date range expression to 4d4 or older.
You may get fresh data from Google Analytics 4 but keep in mind that it might not be the finalized version.
---
---
Was this article helpful?
---
What's Next