Overview
Available Metrics and Dimensions
The connector supports all the fields available in the official API. The full list is available here.
Combining Metrics and Dimensions
Not all the available metrics and dimensions can be combined together. If the chosen combination is not possible, it will result in the connector error. On this page, you can check the mutual compatibility of the chosen metrics and dimensions.

Google Analytics API limits the amount of extracted metrics per source - 10 metrics and 7 dimensions per source.
How to connect data for more than 10 metrics?
If you need more than 10 metrics for a given combination of dimensions (and given that the final combination of 10+ metrics and your dimensions works together), you can create multiple sources and blend them together.
You will need to select exactly the same dimensions in all of the sources and then blend the sources using all of these dimensions as join keys directly in your BI tool or warehouse.
Extraction Limits
Google Analytics API has a data extraction limit of 10 000 rows per single request. Our connector features automatic pagination, so the data extraction is distributed into multiple calls, and the extraction limit can be effectively increased to 250,000 rows.
You can edit the limit of how much data is being loaded for the historic load.
TIP: How to check if you reached the limit?
When looking in the log, a round number (e.g. 10000) is visible, most probably you did not load all the data. An easy way to estimate the limit is to check how much daily data is being loaded, when creating the source in the preview, or go to Sources and click on the log of the source to see Row counts from the last load).
Multi-account Extraction
Our Google Analytics connector supports automatic extraction from all the available Google Analytics accounts. This feature is particularly useful when you have multiple accounts and need to automatically extract the same metrics and dimensions across them (e.g., online agencies).
No Data / Allow Empty
If you have no data in your source, it may lead to a broken source and further issues with synchronization. When checking the Allow Empty box in the source's settings, you will be able to send "empty" data.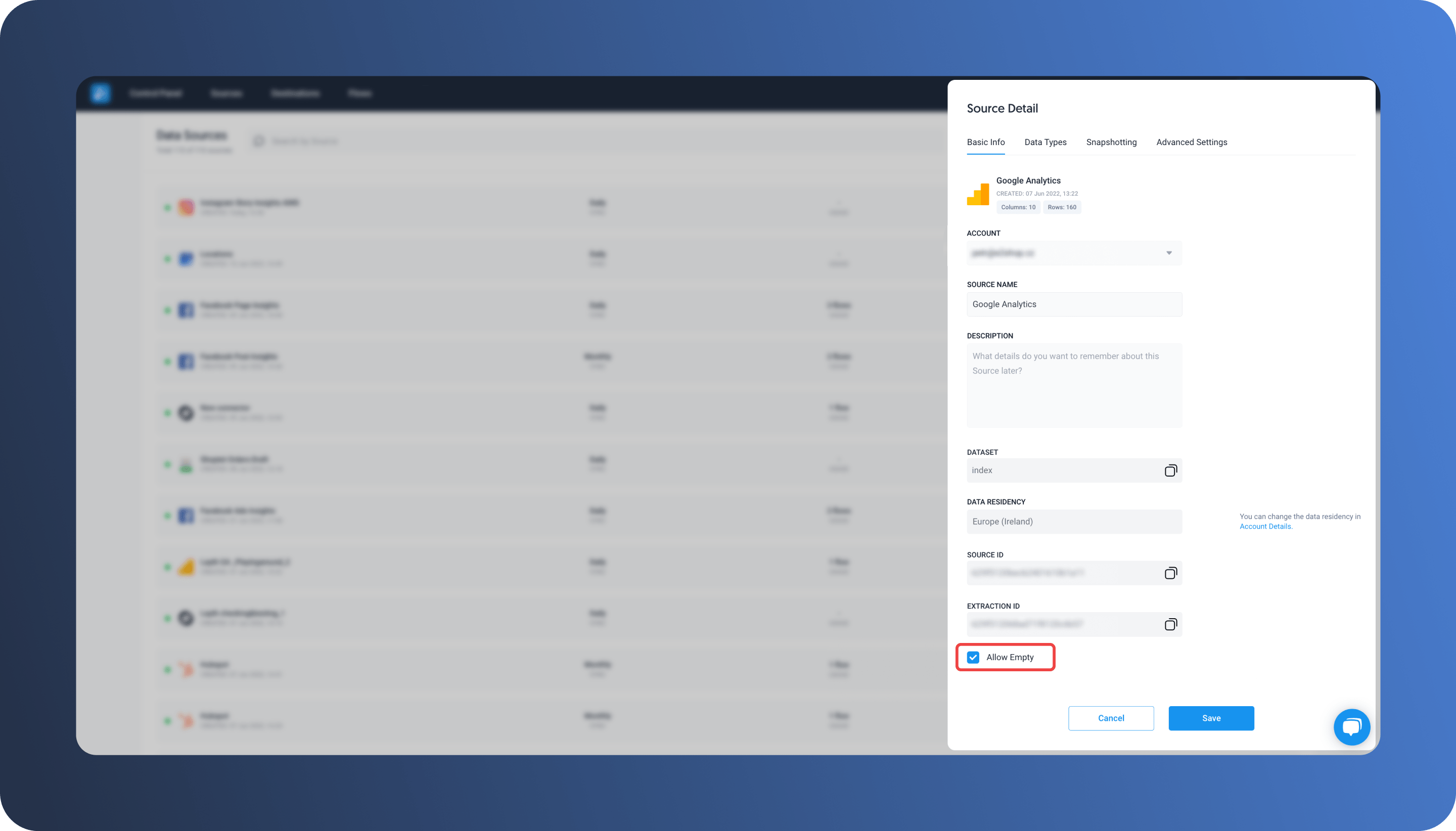 How to Create a Google Analytics Data Source
Sign in to your Dataddo account and click on Sources at the top of the page.

Click on Create Source in the top right corner.

From the list of sources, choose Google Analytics. You can type the name of the connector into the search bar to find it faster.


From the drop-down menu, choose your Google Account connected to Dataddo, Analytics Account, Property, and View. Click on Next to continue with the setup.


Didn't find your account?
If you want to connect a new account that is not on the list, click on Add new Account at the bottom of the drop-down. You will be redirected to the authorization/sign-in page to confirm the right account. Once you confirm, you will be redirected back to the Dataddo app.


Authorize your account
If you have not authorized your Account with Dataddo, click on Add new Account and you will be redirected to the authorization/sign-in page.

After you log in and give Dataddo the necessary permissions to access your data, you will be redirected back to the connector.

Choose a Name for your Data Source, select the Metrics, the Dimensions, and the Data Labels. To continue to the next page, click Next.

NOTE: You can only select 10 metrics and 7 dimensions per source


The next page is optional. You can fill Filter and Segment. If you are not sure what to select in this step, we recommend you skip to the next one. Click on Next to continue.

Read more about the effects of Filters and Segments and some examples below.


Configure your snapshotting preferences by choosing your Sync frequency. Under Advanced setting,s you can select the exact Time, of synchronization. Confirm your setup by clicking on Next.
If the Data range is available to select, you can load historical data. Read more in our guide.

Before saving the source, you can see a preview of your data by clicking on the Preview button. you can adjust the date range to a more specific view.

Also, you can see the full list of the metrics you selected by clicking on Show all Metrics and attributes, in the left navigation.


Click on Save and your new Data Source is ready.
Congratulations, your new Data Source is ready!
---
Broken View / Error Message
If you cannot see a preview of your data, go back a few steps and check your setup. The most common causes are:
Date range - we recommend a smaller date range. If you need to load historical data, check our guide.
Invalid metrics, attributes or breakdowns, or their combination - you may not have any values for them.

---
Filters and Segments
In the Dataddo app, the filters and segments applied to your source will be visible in your destination but will not affect the original data in Google analytics.
Filters
Filters serve are a ""limiter"" to the data. You can filter for example specific countries or exclude them.
EXAMPLE
If you want to exclude some country, where country=Czechia or country=Ireland, then insert the filter as follows:
ga:country!=Ireland
ga:country!=Czechia
Segments
Segments as an optional configuration help you divide your data, so it is easier for you to navigate. For example, you want to segment the data by device or other specific audience segments.
You can check the segment syntax guide directly in the Google documentation.
FAQ
1. Why is are there duplicates in my table?
Too many dimensions when configuring the source were selected, please replace with a source with less dimensions or make sure these dimensions can work together.
Example: We want to get the total daily number of sessions.
Original table
| Date | Number of Sessions |
| --- | --- |
| Jan 1 2022 | 2 |
Pagepath dimension (what pages are visited by every user) is added:
| Date | Number of Sessions | Page |
| --- | --- | --- |
| Jan 1 2022 | 2 | Page 1 |
| Jan 1 2022 | 1 | Page 2 |
Total number of sessions: 3
Where is the problem?
One user visited both Page 1 and Page 2 during the same session.
The same session appeared twice in combination with each page, aka it resulted in a duplicate.
2. Why am I missing data?
Missing data occurs when the total values was broken down into subcategories and the sum of the two subcategories differs. When working with your data, you need to keep this difference in mind.
This error is caused by Google being unable to retrieve the subcategory information on all of its users and this value is left blank. These blank values are then disregarded instead of being put into their own category.
This error happens most often with Gender or Country dimensions so keep the possibility of this error in mind when working with them.
Example: We want to get how many men and how many women visited my website last week.
Original table
| Total | Number |
| --- | --- |
| Total Users | 500 |
Gender dimension is added:
| Total | Number |
| --- | --- |
| Total Female Users | 200 |
| Total Male Users | 200 |
What about the rest 100 users?
This error occured because Google was not able to retrieve information on 100 users' gender and the undetermined values were not put into a separate row.
3. Why can't I get data from 3 days ago and more recent?
Google takes between 24 – 72 hours to process data which is why it's possible to get data only from 3 days ago or older.
For Google Analytics, YouTube, or Google My Business, change your date range expression to 3d3 or older.
For Google Search Console, change your date range expression to 4d4 or older.
You may get fresh data from Google Analytics 4 but keep in mind that it might not be the finalized version.
---
---
Was this article helpful?
---
What's Next