Prerequisites
You already have a PowerBI.
You already created at least one Source.
Creating a New Data Flow to Power BI
In Dataddo
Click on Flows at the top of the page and proceed with Create Flow in the top right corner .
Click on Add Source and choose the source you'd like to include in the flow. You can type the source or connector's name into the search bar to find it faster. You can add more sources or blend two sources in the same flow. Read more about Data Blending here.
Once you select your data source, click on Add Destination, followed by navigating to Dashboarding Apps and selecting PowerBI.
You can Name your flow by typing the name into the top.
You can see a Data Preview to make sure of your configuration.
Click on Save flow.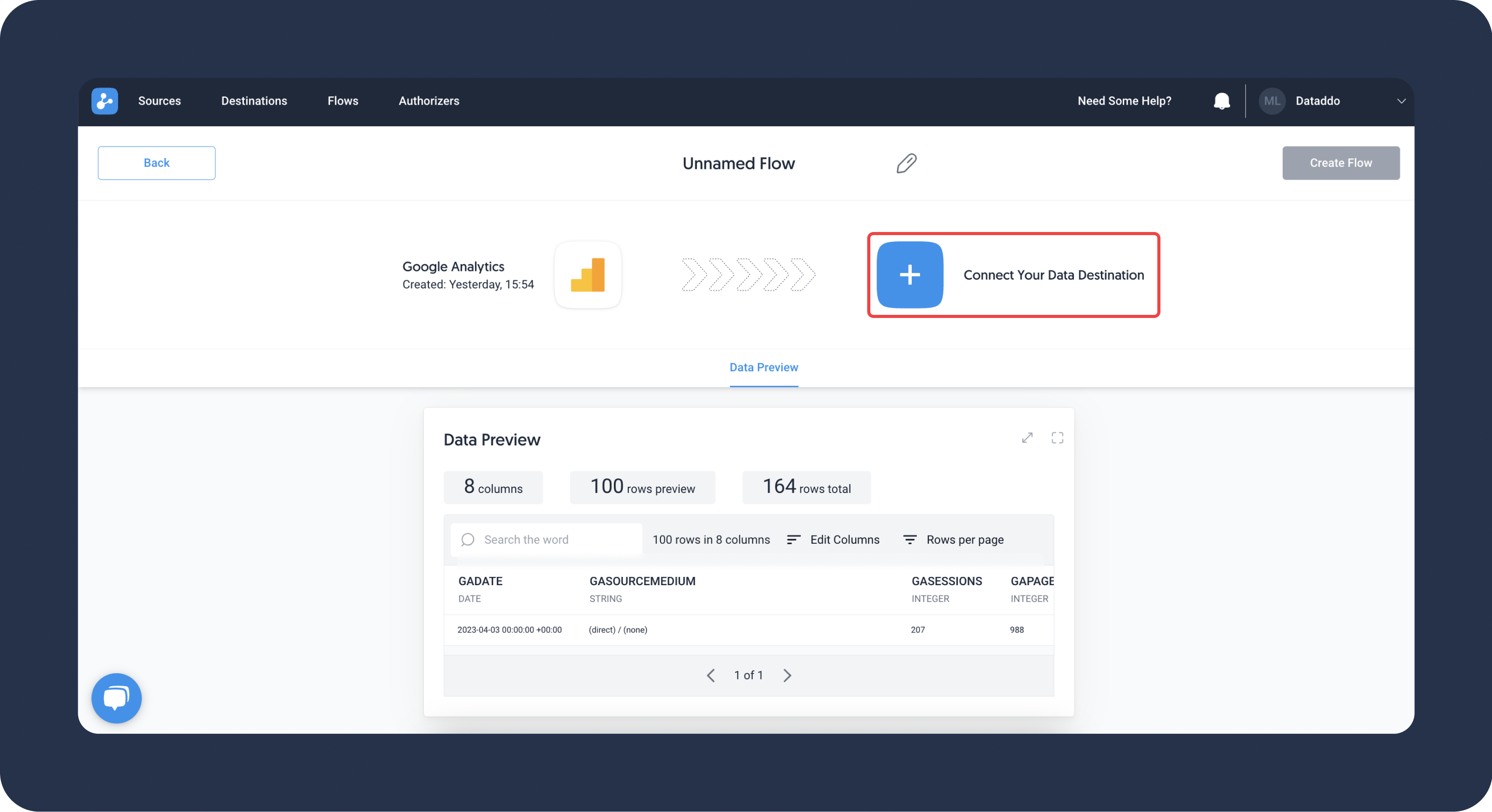 In Power BI
After saving flow in Dataddo, the configuration window will appear. If not, or you already closed it, click on the three dots next to the flow and choose Config.
You will be presented with two options. Power BI Personal Dashboard and Power BI Shared Dashboard.

Use PowerBI Personal Dashboard when you do not plan to share your PowerBI Report / Dashboard with your coworkers via PowerBI Online Service.
Use PowerBI Shared Dashboard when you plan to share your PowerBI Report / Dashboard with your coworkers via PowerBI Online Service.
Configuring the connection for shared dashboard
Open your Power BI desktop.
Click on "Get data" and select "Web".
Click on "Advanced".
Copy & paste the value of URL Path from the configuration window in Dataddo. The value is in a format of https://api.dataddo.com/v1.0/get/aaaaaaaaaaaaaaaa0201b4f3?type=csv
In the HTTP Request Parameters type Authorization to what appears as select box.
Copy & paste the value of the authorization header. The value is in a format of Bearer aaaaaaaaaaaaaaaa744609253455d7ec3081e84c708e4d93a16548275382da40.
If you want to share your report with others, please follow with the setup for report sharing.
Configuring the connection for personal dashboard
Make sure you have the admin rights on your Windows machine, if not, please use Configuring the connection for shared dashboard.
In the configuration window click on download the installer. Choose x64 or x86 depending on the system you use. To find out, if you have Windows 64-Bit or 32-Bit click here.
A zipped file will be downloaded to your computer. Unpack the folder (meaning, copy + paste the folder somewhere outside the zipped folder, like onto your desktop).
Open the unpacked folder and look for the Installer file. Right-click on the file and Open.
Click More Info and then Run anyway.
The terminal window will appear when the installation runs. Press enter to exit. The connector is now installed on your computer.
Open Power BI and click on Get data from another source.
Choose Dataddo (Beta) from the list of apps and click on Connect.
Insert the API key from Dataddo and click on Connect again.
If you cannot find the API key, you can find it in the Flow section. Check the instructions below.
Sharing report via Power BI online service
If you want to share your report and all the underlying data sets with your coworkers using the Power BI online service, you can simply do that by sharing your report.
Make sure that you configured the connection between Dataddo and PowerBI using Configuring the connection for shared dashboard guide. Sharing of the dashboard will not work if you are connecting via installed desktop plugin.
You will need to schedule an automatic refresh so that your coworkers have the correct and newest data.
1. One option is to go to My workspace window,

2. The second option is to click on Schedule refresh on the left side of the Power BI website.

At first, you will get an error message stating that the credentials are invalid. You need to go to the Datasets' settings page and in Data source credentials click on Edit credentials.


You can keep all the fields as they are, but you need to select Skip test connection. We want Power BI to skip this test as this is causing the problem.


Once this is done, we can click on Sign in and set up the scheduled refresh in the Scheduled refresh part as wanted. The next refresh will work without any problem.

Troubleshooting
Cannot install Dataddo Power BI plugin
In case you are struggling with the installation of Dataddo Power BI plugin from whatever reason (e.g. you do not have Windows admin rights for your computer), please use configuration of the connection for shared dashboard. This does not require any installation and will work always.
Cannot Refresh / Connect Data
If you see an error message regarding a failed update of the data source, as per below, check the box Skip test connection and continue to sign in.
Limitations
When sending your data to Power BI, be aware that it has a limit of how much data it can connect at once. You can see how much data is in the source by clicking Data Preview (three dots next to the source under Sources) and the total number of records is shown in the top left.
There are other limitations that apply to specific features, but the following list applies to the full Power BI service:
Dataset size limit - There's a 1-GB limit for datasets stored in Shared capacities in the Power BI service. If you need larger datasets, you can use Power BI Premium.
Distinct values in a column - When caching data in a Power BI dataset (sometimes called 'Import' mode), there is a 1,999,999,997 limit on the number of distinct values that can be stored in a column.
Row limit - When using DirectQuery, Power BI imposes a limit on the query results that are sent to your underlying data source. If the query sent to the data source returns more than one million rows, you see an error and the query fails. Your underlying data can still contain more than one million rows. You're unlikely to run into this limit as most reports aggregate the data into smaller sets of results.
Column limit - The maximum number of columns allowed in a dataset, across all tables in the dataset, is 16,000 columns. This limit applies to the Power BI service and to datasets used in Power BI Desktop. Power BI tracks the number of columns and tables in the dataset in this way, which means the maximum number of columns is 16,000 minus one for each table in the dataset.
Data source user limit - The maximum number of data sources allowed per user is 1000. This limit applies to Power BI service only.
The solution
You can either limit the amount of data (it is possible the amount is this huge because of incorrect snapshotting settings)

Or connect the data to a data warehouse instead and then to Power Bi. One option is to use a database, e.g. Google Sheets, or you can start using a warehouse for more of a long-term solution, e.g. Azure Blob Storage.
---
Was this article helpful?
---
What's Next