Signing up for 14-day trial
Visit Dataddo Trial Sign Up page.
We recommend to use one of the supported SSO providers (e.g. Google or Microsoft) to create Dataddo 14-day trial. This makes the process so easy that you can ignore the rest of this article. In case you do not want to use one of the SSO providers, kindly proceed with the following points.
Fill out the registration form. You will be asked to fill out just your work email. Once finished, click on Create account.
You will receive an email that will guide you on how to activate your account. Click on Create Dataddo account. If you did not received the confirmation email see Troubleshooting.
Set up your password, confirm it and click on Set password. Once you see the Account activation message, you can log in and your Dataddo 14-day trial is ready. Kindly follow minimal password requirements policy. Please use at least 10 characters, 1 uppercase, 1 lowercase, 1 number and 1 special character.
After logging to the Dataddo please kindly fill all the requested information, so our team can better provide the support during your trial period.
If you are using username and password for login, we strongly recommend to activate MFA for your account.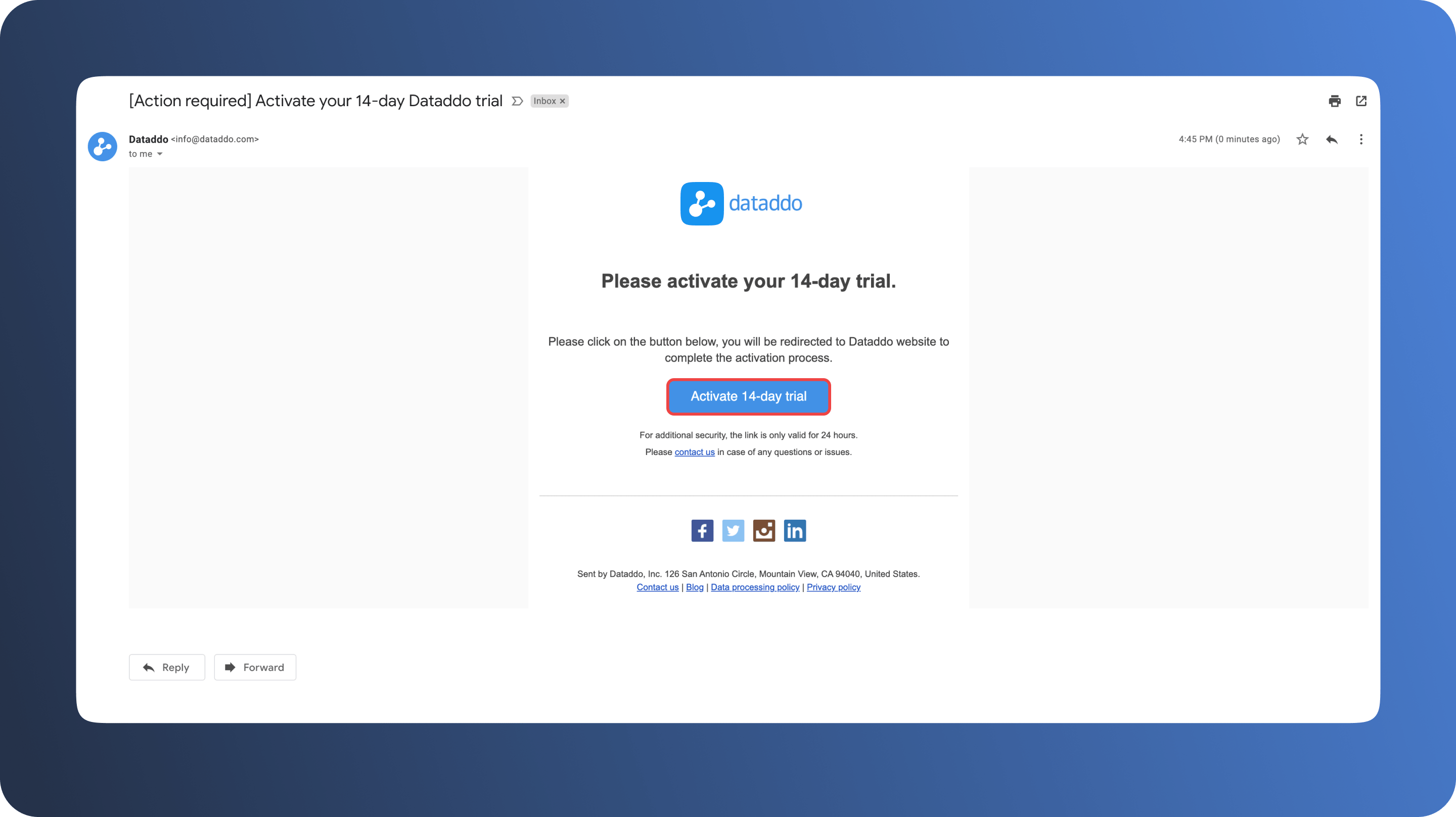 Troubleshooting
No activation email received
When signing up using username and password instead of SSO, we will send you a confirmation email to validate your access to the provided mailbox. In case you did not received the confirmation email during the sign up process, please do one of the following:
Check your email address. Make sure that you entered your email address correctly.
Check your email spam. You may also check whether our email hasn't been mistakenly sent to your "spam" folder or other folders like Promotions or Social.
Browser check is failing
During the login into your Dataddo account, the system is checking your browser to detect future potential problems with using the app. If we detect a potential problem, the red notifications banner will appear. The most common reason is when you have "Adblocker" on, and it detects keywords such as Google Ads (which are not actually advertisements but one of our connectors).
Try to switch off your "Adblocker" app if you are using any.
Try to run your browser is a mode without any other add-ons that might be blocking the traffic.
---
Was this article helpful?
---
What's Next