How to Create a LinkedIn Data Source
Sign in to your Dataddo account. Navigate to Sources and click on Create Source in the top right corner.

From the list of connectors, choose LinkedIn.


First, select the required dataset and click on Next.

DATADDO TIP

If you are not sure which dataset to choose, but know which metrics and attributes you are looking for, you can use the Search by Name or Attribute function.

From the drop-down menu, choose the LinkedIn Account you connected to Dataddo, and then choose your Organization Page or insert Organization ID. Click on Next to continue with the setup.

NOTE

Organization ID can be found in the LinkedIn URL when logged in as an administrator. Find more information here.

Didn't find your account?

If you want to connect a new account that is not on the list, click on Add new Account at the bottom of the drop-down. You will be redirected to the authorization/sign-in page to confirm the right account. Once you confirm, you will be redirected back to the Dataddo app.
Please keep in mind that your LinkedIn account needs to be reauthorized every year.

Choose a Name for your Data Source, and select the Metrics and Attributes. To continue to the next page, click Next.


Configure your snapshotting preferences by choosing your Date range, Sync type, Sync frequency, Time, and Timezone. Confirm your setup by clicking on Next.

Before saving the source, preview your data by clicking on the Test Data button. Adjust the date range to see a more specific range of data.

Click on Save and congratulations, your new data source is ready!
---
Permissions
When authorizing access to LinkedIn, to be able access the organization's page analytics data, make sure you sign in as an administrator. Please refer to Microsoft's official documentation for further details.
Available metrics
Currently, these LinkedIn datasets available in Dataddo:
Organization followers by country
Organization followers by function
Organization followers by seniority
Organization followers by staff count
Organization followers count
Time-bound organization page followers
Individual shares metadata
Individual share statistics
Aggregated share statistics
Time-bound aggregated share statistics
Organization page views by country
Organization page views by seniority
Lifetime Organization page statistics
Time-bound Organization page statistics
UGC Posts by Organization
Individual UGC Posts statistics
Dataddo can extract all the metrics provided via the official API. The full list of metrics is available here.
Reauthorization
For LinkedIn, reauthorization is required every year.
Organization identifier
When configuring the Linkedin organic connector, you will be asked to provide the Organization ID parameter. To find it, log in to your Linkedin and navigate to your company page. In your browser, you will see the URL such as https://www.linkedin.com/company/5293927/, where the number 5293927 represents the Organization ID. Make sure you view the page as an admin.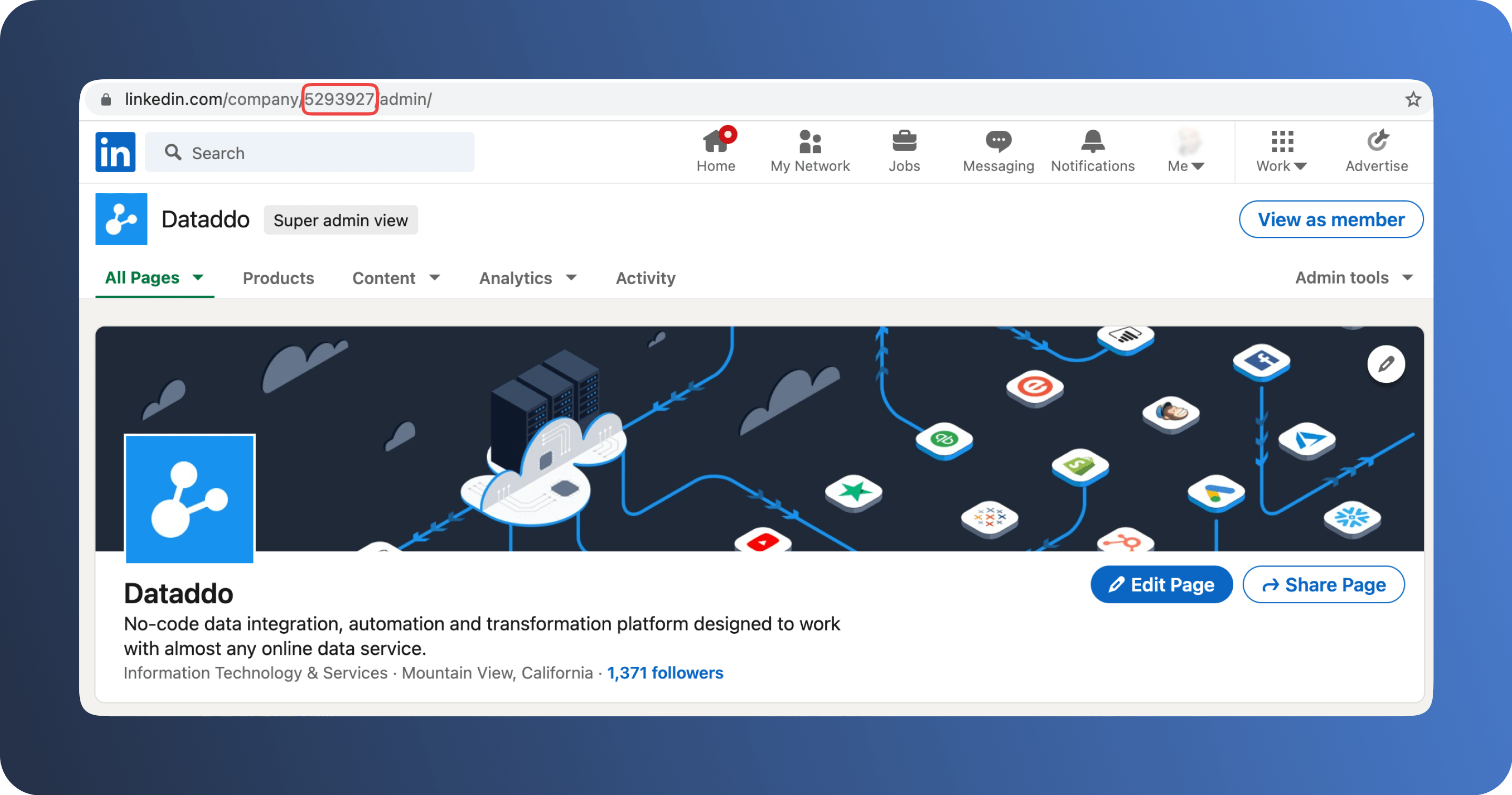 ---
Troubleshooting
Broken View / Error Message
If you cannot see a preview of your data, go back a few steps and check your setup. The most common causes are:
Date range: We recommend a smaller date range. If you need to load historical data, check our guide.
Invalid metrics, attributes, or breakdowns: You may not have any data for the selected metrics, attributes, or breakdowns.
Combination of metrics, attributes, or breakdowns: The combination you have selected cannot be queried together. Please refer to the service's documentation to view a full list of which metrics can be included in the same source.

---
---
Was this article helpful?
---
What's Next