Share feedback
Thanks for sharing your feedback!
LinkedIn is a social networking platform primarily focused on professional and business connections. It allows individuals and companies to create profiles, connect with other professionals, share content, and engage in networking, job searching, and business development activities.
For all available metrics and attributes, please refer to our website.
All available endpoints from the LinkedIn API are listed here.
How to Create a LinkedIn Data Source
On the Sources page, click on the Create Source button and select the connector from the list.
Select your dataset and click on Next to continue.

DATADDO TIP

If you are not sure which dataset you need but know the metrics and attributes, use the Search by Name or Attribute function.

From the drop-down menu, choose your account.

Didn't find your account?

Click on Add new Account at the bottom of the drop-down and follow the on-screen prompts. You can also go to the Authorizers tab and click on Add New Service.

Name your data source and select your metrics and attributes. Please keep in mind that metrics and attributes depend on the selected dataset.
Configure your snapshotting preferences. Choose your sync frequency or the exact synchronization time under Show advanced settings.

DATADDO TIP

If you need to load historical data, please refer to the Data Backfilling article.

Preview your data by clicking on the Test Data button in the top right corner. You can adjust the date range for a more specific time frame.
Click on Save and congratulations, your new data source is ready!
---
Connector Overview
Permissions
When authorizing access to LinkedIn, make sure you sign in as an administrator in order to be able access the organization's page analytics data.
Refer to Microsoft's official documentation for further details.
Reauthorization Requirements
For LinkedIn, reauthorization is required every year.
Organization Identifier
When configuring the Linkedin organic connector, you will be asked to provide the Organization ID parameter.
Log in to your LinkedIn as an admin and navigate to your organization's LinkedIn page.
You will see your URL such as
https://www.linkedin.com/company/5293927/. The number 5293927 is the Organization ID.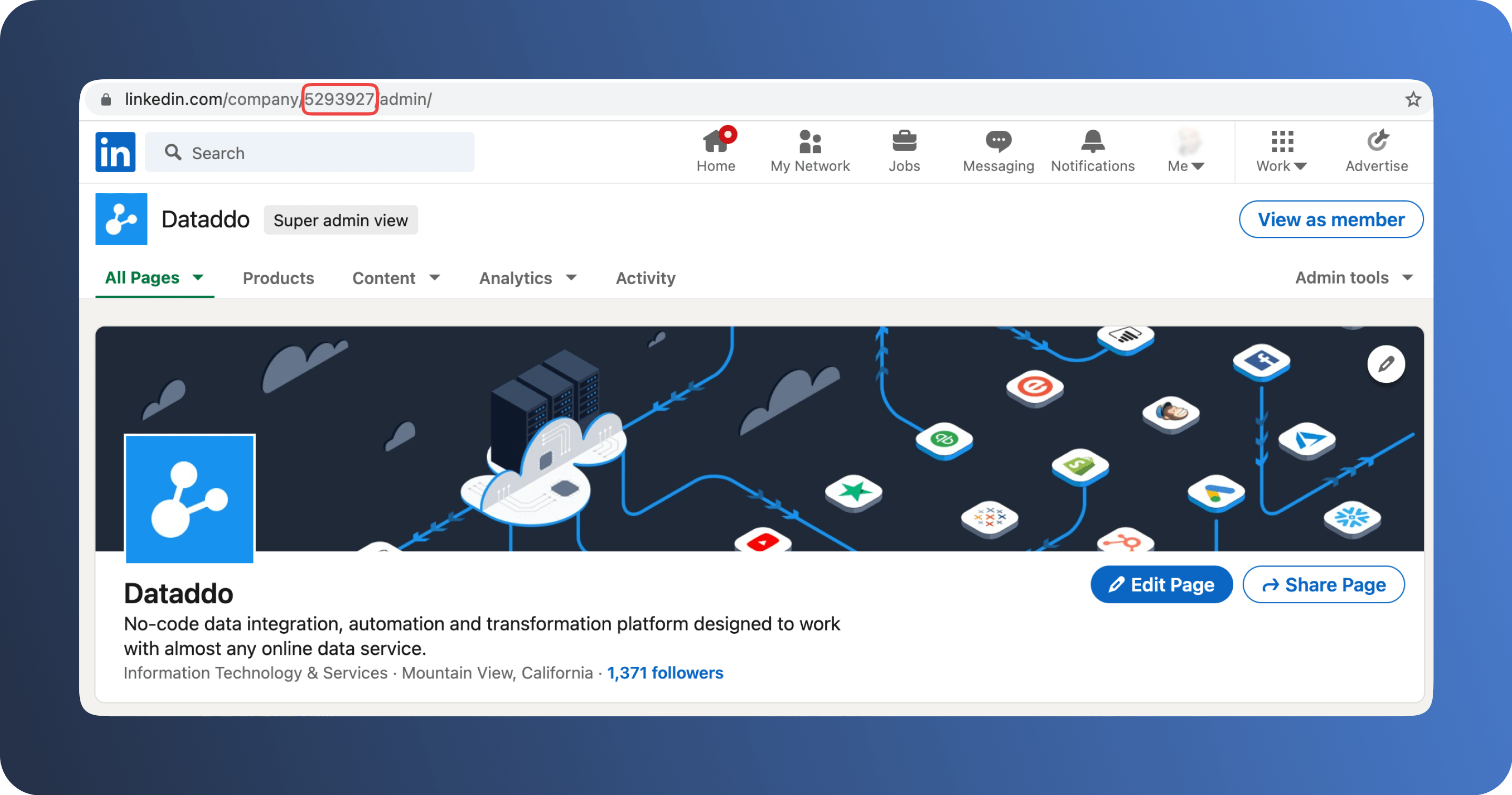 ---
Troubleshooting
Data Preview Unavailable
If there is no data preview after clicking on Test Data, there might be a problem with your source configuration. The most common causes are:
Date range: Try a smaller date range. You can load the rest of your data afterward through our manual data load function.
Insufficient permissions: Please make sure your authorized account has at least admin-level permissions.
Invalid metrics, attributes, or breakdowns: You may not have any data for the selected metrics, attributes, or breakdowns.
Incompatible combination of metrics, attributes, or breakdowns: The combination you have selected cannot be queried together. Please refer to the service's documentation to view a full list of metrics that can be included in the same source.
Related Articles
Now that you have successfully created a data source, see how you can connect your data to a dashboarding app or a data storage.
Sending Data to Dashboarding Apps
Sending Data to Data Storages
Other Resources
---
Was this article helpful?
---
What's Next